Most Expensive Neighborhoods in Los Angeles, CA
Posted by Greg Geilman on Monday, August 31, 2020 at 9:19 AM
By Greg Geilman / August 31, 2020
Comment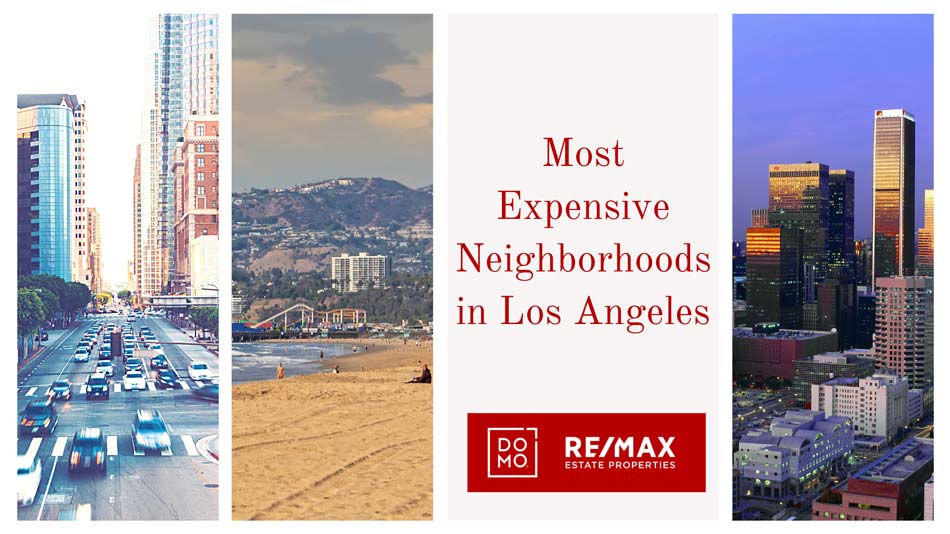 Los Angeles is known as the City of Angels and home to world-famous Hollywood entertainment. Seated in the basin of Southern California near wondrous mountains, vast deserts, and the Pacific Ocean, individuals have flocked to Los Angeles from all over the world. Between the Mediterranean climate and the culture, dining, and shopping diversity, it's hard to find a better part of the country to call home. In some of Los Angeles' most expensive neighborhoods, celebrities and musicians could very well be your neighbors! These highly sought after, luxurious neighborhoods boast the highest price tags in all of Los Angeles.
Beverly Hills
Beverly Hills Amenities
Weekly farmers market
Biannual art show
Highly walkable
Several parks
Celebrity hotspot
Plenty of shopping nearby
Known for being Los Angeles' most expensive neighborhood, Beverly Hills features exquisite homes — most of which are architectural masterpieces, while others are mansions that span multiple single-family home lots. The median sale price for a home in the Beverly Hills neighborhood is $10,050,000! The average price per square foot is just over $3,000.
In addition to at least five bedrooms and five bathrooms, nearly every home in Beverly Hills has multiple acres of land. However, many homes boast far more than five bedrooms. Many have a pool (or two), home theaters, and outdoor activities that suit the needs and interests of the homeowner. The Beverly Hills neighborhood is just minutes away from some of Los Angeles' best dining, nightlife, shopping, and entertainment. Homeowners in this neighborhood have quick access to the iconic Beverly Hills Hotel and the annual Golden Globes ceremony. Better still, the heart of downtown Los Angeles is under 15 minutes away, making Beverly Hills well regarded as one of the most walkable neighborhoods of Los Angeles.
Beverly Hills Flats
Beverly Hills Flats Amenities
Picturesque palm tree-lined roads and large lots
Highly walkable
Golf at the Los Angeles Country Club
Will Rogers Memorial Park and Beverly Gardens Park
Mainly residential
Nicknamed "The Flats" by homeowners and realtors in the area, this neighborhood features perfectly manicured trees that line the streets. The neighborhood is gated and patrolled to ensure stars like Phil Collins, Justin Bieber, Demi Moore, and Betty White can enjoy some rest and relaxation in their homes.
Just north of Santa Monica Boulevard, the Beverly Hills Flats is a charming neighborhood that has homes of all styles. Some are custom-built while others are a blend of modern and contemporary. The median sale price is a whopping $7,425,000, but many homes sell for well over $10,000,000. Most homes have multiple acres of land and beautifully maintained yards. With less than a 10-minute drive to downtown Los Angeles, Hollywood's iconic stars are not far from the tastiest dishes and upbeat entertainment the city has to offer.
Beverly Hills Flats Hotspots
Malibu Colony Beach
Malibu Colony Beach Amenities
Malibu Beach
4th of July fireworks
Surfing
Sunday farmers market
Malibu Colony Beach has risen in popularity as one of the best places for celebrities to call home. Nicknamed "The Colony", this beachfront neighborhood is incredibly exclusive and patrolled with armed guards 365 days a year. Residents can enjoy quick access to the beach, along with high fashion stores and trendy restaurants. Those with an adventurous side are just minutes away from Point Dume Natural Preserve and Malibu Hills, which has some of the best outdoor sporting experiences the United States offers.
With outstanding views of the Pacific Ocean and mountain ranges, the median sale price for homes in Malibu Colony Beach is $10,650,00. Future residents are not limited to the style of homes that are available in the neighborhood, as classic Malibu-style homes and modern beachfront masterpieces line the streets of Malibu Colony Beach. This neighborhood is a favorite for people who want to have some fun in the sun without worry of their privacy being interrupted.
Malibu Colony Beach Hotspots
North of Montana
North of Montana Amenities
Poximity to public schools
Walkable
Montana Avenue Holiday Walk
Palisades Park
The North of Montana neighborhood has quickly risen in ranks as one of Los Angeles' most popular neighborhoods to reside in year-round. With over 10,000 residents, the area self-funds its own improvement projects and maintenance through a city-approved neighborhood association. The average sale price in this upscale neighborhood comes in at just under $3,900,000, with the price per square foot at nearly $2,500. Residents have access to nearby schools, convenient beach access and amenities, and around-the-clock activities. There is something for everyone within a short walk, bike ride, or drive.
Many of the residents in the North of Montana neighborhood are not stars in Hollywood, but they are well-established individuals who enjoy the finer things in life. The North of Montana neighborhood is close to the popular 3rd Street Promenade shopping mall and less than 20 minutes from downtown Los Angeles. Most homes offer gorgeous views of Santa Monica Canyon and the Pacific Ocean. Every street and lawn is well-maintained throughout the year, in order to meet the strict neighborhood association regulations.
North of Montana Hotspots
Serra Retreat
Serra Retreat Amenities
Gated, private, and quiet neighborhood
Proximity to shopping, dining, and a movie theater
Malibu Lagoon
Serra Retreat Center run by Franciscan Friars
With only 100 lots, the Serra Retreat neighborhood is one of the smallest and most exclusive neighborhoods in Los Angeles. Homes boast a median sale price of $5,475,000 and extreme privacy. Only two roads lead in and out of the neighborhood, and both roads are gated and guarded around the clock. A variety of shopping, dining, and entertainment is just a short walk from the neighborhood. Residents can quickly access Malibu Country Mart, a luxurious movie theater, in addition to Malibu Village and Malibu Lumberyard.
Serra Retreat is nicknamed "The Retreat" and run by the Franciscan Friars. This religious group welcomes anyone who is seeking meditation and reflection. Residents describe the neighborhood as a sanctuary and consider their homes private retreats. All neighbors are expected to maintain the peace and tranquility of the neighborhood in efforts to respect everyone's sanctuary.
Trousdale Estates
Trousdale Estates Amenities
Hiking at Franklin Canyon Trail
Gated and highly-secured neighborhood
Graystone Mansion
5-minute drive to Beverly Hills
Privacy meets luxury in the Trousdale Estates neighborhood. A private security firm patrols the gated neighborhood year-round (including holidays) to ensure the neighborhood's high-profile residents are not disturbed. Some of the neighborhood's residents currently include Jennifer Aniston and Jane Fonda, while notable past residents were Elvis Presley and Frank Sinatra.
Trousdale Estates is located at the foot of the Santa Monica Mountains in Beverly Hills and offers exquisite views. The houses in the neighborhood range from traditional-style homes to artful, modern-glass jewel boxes. The oversized lots include copious amounts of lush landscaping to add a layer of privacy. The median price for homes in this neighborhood comes in at just over $8,500,000. In Los Angeles, Trousdale Estates has earned the title of the second-most exclusive neighborhood.
Trousdale Estates Hotspots
Carbon Mesa
Carbon Mesa Amenities
Close access to Malibu Beach and La Costa Beach
Walkable and scenic neighborhood
Nearby hiking trails
Despite living in Los Angeles, some individuals want to get away from the city when they retreat to their home after a long day. The Carbon Mesa neighborhood allows residents to do just that. With complete seclusion from city life, homeowners in this neighborhood are swept away to beachside living with small, trendy amenities. Right on the coast of the Pacific Ocean, the mansions in Carbon Mesa have the million-dollar views that residents rightfully pay to enjoy.
Homes in Carbon Mesa average a $4,000,000 price tag. Homes do not often go on the market in this neighborhood, so buying a home in this area can be a competitive challenge. Hardly any two homes look alike in Carbon Mesa, as some range from classic modern styles to works of art. With easy access to the beach and the cafés that line East Malibu's coast, it is easy to understand why homeowners do not wish to leave their home in Carbon Mesa anytime soon.
La Costa
La Costa Amenities
Away from high-tourism area
Mile-long beach
Malibu Bluffs Community Park
Surfing and stand-up paddleboarding
Nearby hiking trails
Los Angeles is known for tourists who flock to Malibu in order to enjoy the Pacific Ocean. The most alluring factor of the La Costa neighborhood is the private beach access that is nearly impossible for any tourist to access. People who want to enjoy the sound of the ocean every morning must add La Costa to their wishlist.
With a median sale price of $3,400,000, homes in La Costa have private roads that are maintained by an HOA. Residents are just minutes away from popular dining and shopping in Malibu. The gorgeous homes in this neighborhood range from beach bungalows to Mission Revival, modern, and Spanish architectural styles.
Los Angeles' most expensive neighborhoods provide huge payoffs in terms of luxurious views, extreme privacy, well-maintained properties, famous neighbors, and easy access to downtown Los Angeles' and Malibu's best dining and entertainment. The homes range from traditional family-style homes on oversized lots to works of art from the world's greatest architects, high-end and expensive even compared to the average cost of living in Los Angeles. Each neighborhood offers its own benefits regarding its location and views, but they all are exceptional choices for those who are looking to make their next move to Los Angeles. Whether you want to find a home in the luxurious high-end neighborhoods of this city or look for a more affordable Los Angeles neighborhood, LA is sure to have something for you.