Most Walkable Suburbs in Los Angeles, CA
Posted by Greg Geilman on Monday, August 31, 2020 at 9:52 AM
By Greg Geilman / August 31, 2020
Comment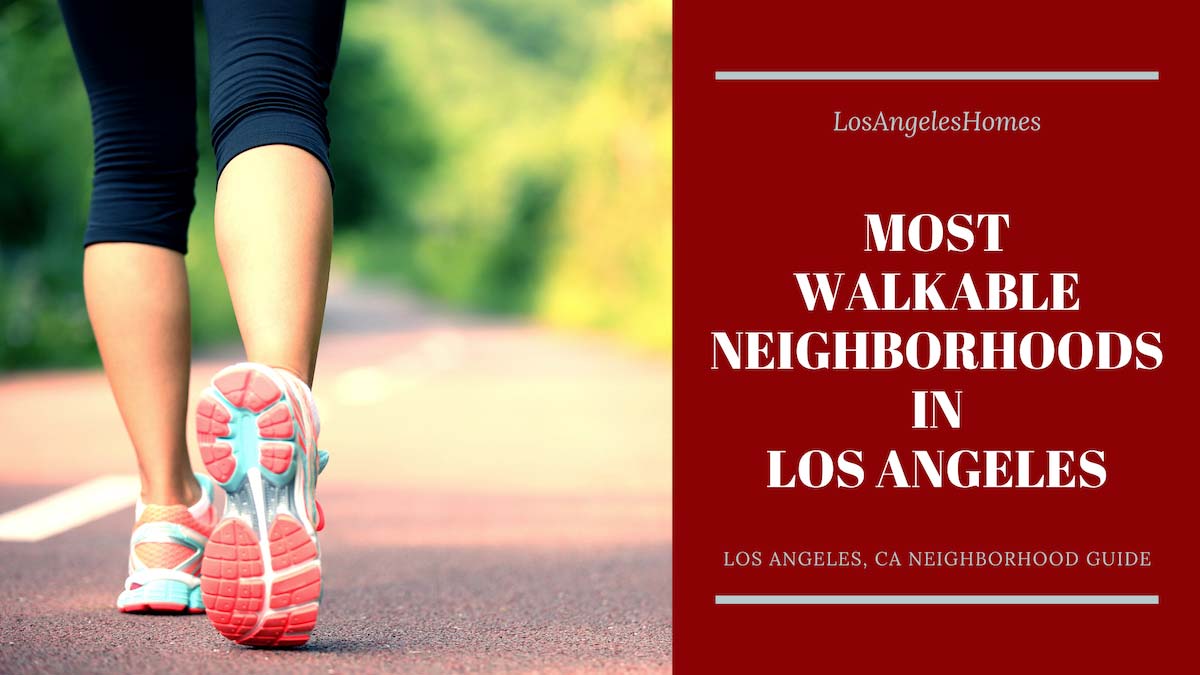 Los Angeles County is home to more than 10 million residents, with the city of Los Angeles at its heart. However, if looking to buy a home in a walkable community, then it is time to look at the Los Angeles suburban region. Suburban Los Angeles sprawls across the Pacific shores and is home to distinctive cities with famous beaches, piers and historical landmarks. Within commuting distance of Los Angeles, there are several cities with highly walkable communities. Each of these cities has a high Walk Score.
A Walk Score is a number from 0 to 100 given to a particular address or area of a city in the United States or Canada. More than 10,000 neighborhoods have received scores and rankings. Factors include proximity to public transit, parks, businesses, and amenities.
The top six walkable communities near Los Angeles are:
Hermosa Beach
Santa Monica
Culver City
Redondo Beach
Beverly Hills
Long Beach
Hermosa Beach
When looking for a walkable community near Los Angeles, check out Hermosa Beach. It has a Walk Score of 87, just one point behind one of the world's most famous walkable cities: New York. Hermosa Beach is located less than 25 miles southwest of Los Angeles and is about six miles south of the Los Angeles International Airport (LAX) nestled between Manhattan Beach and Redondo Beach. It has two full miles of sandy shoreline and stunning ocean views.
With a Walk Score in the high 80s, Hermosa Beach residents can ditch their car when it is time to run errands or head out to the beach. The Hermosa Beach Pier and Pier Plaza are just two destinations easily accessible by foot (or bicycle). Pier Plaza, a pedestrian-friendly destination with a variety of places to eat and shop, can be found just west of Hermosa Avenue at the end of Pier Avenue. Walk east on Pier Avenue to Valley Drive and then head north. In a few blocks, walkers can find Valley Park and the Hermosa North School.
Pedestrians taking advantage of the walkable areas of Hermosa Beach also can enjoy the many smoke-free public spaces. These include the Pier Plaza, the Strand, and the beach.
Santa Monica
Santa Monica, California, sits about 17 miles west of Los Angeles and 12 miles north of LAX. It has the distinction of being the Twelfth Most Walkable City in the United States and the fourth most walkable in the state. Santa Monica has a Walk Score of 82. Whether living in or visiting Santa Monica, be sure to check out the city's three most walkable neighborhoods: Ocean Park, Downtown, and Mid-City.
The Ocean Park neighborhood includes Main Street, the ideal avenue to explore for a wide range of places to eat and shop. From Main Street, it's an easy walk to the Dorothy Green Park or the Barnard Way Linear Park, which has a shoreline view that is not to be missed. Walk north along Barnard Way to the Crescent Bay Park that's adjacent to the Surf School. Bicknell Avenue or Bay Street connects pedestrians back to Main Street and places to grab a coffee or a slice of pizza.
The Santa Monica Pier sits between Ocean Park and Downtown, a great area for walking, sightseeing, and shopping. Downtown is adjacent to the State Beach and home to entertainment venues, hotels, restaurants, and shops. The walkable Mid City area connects to Downtown. The Santa Monica and Wilshire Boulevards run through the Mid City neighborhood. Wilshire boasts pedestrian-friendly medians and sidewalks that make for an easy walk from the UCLA Medical Center to Douglas Park.
Culver City
Culver City has a Walk Score of 75 and is home to three easily walkable communities: McManus, Washington, and Clarkdale. Residents of Culver City enjoy convenient proximity to Los Angeles. The city is only ten miles west of Los Angeles and six miles north of LAX. It's about seven miles east of Santa Monica.
The Ballona Creek Bike Path winds through Culver City and is a popular trail for hiking, biking, and walking. The path stretches nearly seven miles through the city all the way to Marina Del Ray, and it has an elevation gain of almost 90 feet. A primary access point for the Ballona Creek Bike Path is at the Syd Kronenthal Park.
The McManus neighborhood is home to the Syd Kronenthal Park. The Ballona Creek runs through this walkable area that has National Boulevard as its south border.
Sony Pictures Entertainment is in the Washington neighborhood located on Washington Boulevard, a city street with wide sidewalks lined with palm trees. From Washington Boulevard, walkers can access the Sony Pictures Studio Calley Park.
The Clarkdale neighborhood is adjacent to the Washington neighborhood. The side streets off Washington Boulevard teem with places to eat and shop in addition to the Telefson Park off Bentley Avenue and Washington Place.
Redondo Beach
Oceanfront living in Redondo Beach means an easy stroll to reach restaurants, boutique shops, and outdoor recreation like surfing, boating, and swimming. The city of Redondo Beach is less than 25 miles southwest of Los Angeles and seven miles south of the LAX. North Redondo Beach is adjacent to Hermosa Beach, with easy connections to the 405 Highway.
The city of Redondo Beach has a Walk Score of 74, which means residents can run many errands without having to hop into the car or deal with traffic and the hassle of finding a place to park. The Esplanade is one of the most popular areas to walk, a great way to access the beach and see the ocean as well as views of the Palos Verdes. Don't forget to visit the Rock Shore at the Redondo Beach Pier, located just south of Veterans Park. From the park, walk north to the Seaside Lagoon and continue to the King Harbor Marina. Along the way, there are numerous residences.
The Redondo Beach Dog Park is in the central part of the city, a scenic walk from the King Harbor Marina or from Sea Hawk Stadium.
Beverly Hills
Beverly Hills is its own city within Los Angeles County, located approximately 12 miles west of downtown Los Angeles and 15 miles northeast of LAX. While many non-Californians know it for its most famous zip code, 90210, it is the Beverly Hills zip codes of 90211 and 90212 that are considered the most walkable areas. The city of Beverly Hills has an overall Walk Score of 75. While some streets like Rodeo Drive are extremely walkable, residents typically need to rely on a vehicle to run daily errands or to complete their work commute.
Rodeo Drive is the most walkable street of Beverly Hills. It even boasts its own Walk of Style, a tourist attraction that features bronze plaques honoring fashion and design industry icons. If high-end shopping is desired, Rodeo Drive is the place to go. It stretches for a full two miles, but the area known as the Golden Triangle has easily recognizable boutiques and high-end shops.
After strolling Rodeo Drive, walk over to the Beverly Gardens Park that is located off Santa Monica Boulevard. The park has beautiful gardens and is steps away from coffee shops, boutiques, and the Wallis Anneburg Center for Performing Arts.
Additionally, there is public transportation along Santa Monica Boulevard, making it convenient to connect to other parts of Beverly Hills. Throughout the city, there are more than 450 restaurants, bars, and coffee shops, plus about a dozen bus transit lines.
Long Beach
The city of Long Beach is about 24 miles south of Downtown Los Angeles and 20 miles from LAX. It's the second largest shipping port in the United States and the Tenth Most Walkable City in the country. Its overall Walk Score is 72; however, Downtown Long Beach receives a 92 Walk Score. The Franklin School and St. Mary neighborhoods both receive Walk Scores of 93.
Downtown Long Beach is the place to be, as residents can live, work, and play without having to hop into the car to grab a coffee. Downtown is home to the City Place Shopping Center and The Promenade shops nestled near several restaurants, serving everything from seafood to burgers, tacos, and international cuisine. Long Beach's Downtown has wide pedestrian crosswalks, bike lane planter pots, dog waste dispensers, and even its own Downtown Clean Team.
From Downtown, it is easy to walk to the city's Convention and Entertainment Center, Ocean Boulevard, and the Shoreline Aquatic Park. It's also walkable to the Pike Outlet stores, located just off Seaside Way. There are pathways through the outlet mall that connect to Shoreline Drive; from there, it's a short walk to the Pine Avenue Pier.
Living in the Most Walkable Communities Near Los Angeles
The Los Angeles suburbs offer residents and guests a chance to experience Southern California living without having to view it from a car. It is possible to get out and explore on foot the sights, sounds, and tastes available in some of Los Angeles's most popular areas. From the Strand in Hermosa Beach to shopping Rodeo Drive in Beverly Hills and grabbing a bite to eat in Downtown Long Beach, there is something for everyone.
The most walkable communities near Los Angeles make it easy to leave the car at home, not only lowering your cost of living, but also reducing environmental impact while enjoying everything that Southern California has to offer. Whether you're looking for an affordable Los Angeles neighborhood or a more high-end Los Angeles neighborhood, you're sure to be able to find a walkable neighborhood in your price range.